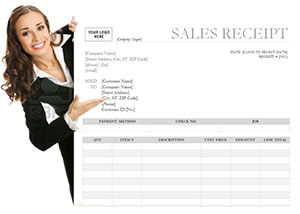 Welcome to the Receipt Template website, a place where you can download all kinds of high-quality receipt templates for free.
What is a receipt?
A receipt is a written document specified goods or a certain amount of money has been received. It is mainly used for recording the purchase of goods or services.
We provide you with many kinds of receipt templates such as sales receipt templates, rent receipt templates, donation receipt templates, deposit receipt templates and cash receipt templates. If you want to create a specific kind of receipt, go to the corresponding section or use the search box to search. If you could not find the template that you need, you can send us an email to request it.
Sales Receipt Template
Rent Receipt Template
Deposit receipt templates
Donation receipt templates
Cash Receipt Templates
Receipt vs. Invoice
Notice that a receipt is not the same as an invoice. An invoice is issued before the customer pays for the goods or service, whereas a receipt is issued after the customer made the payment.
Businesses can use an invoice with the PAID stamp on it to indicate that the customer has already paid for the goods or service. In this case, the receipt is not needed.
Receipt in retail
A receipt may refer to a printed document issued by the retailer to a consumer at the point of sale (POS). In this case, a receipt details the purchases with prices, tax, discounts, amount paid, and form of payment e.g., credit card or cash. It also contains a message from the retailer which may include return policy, special offers or coupons.
Receipt as a legal document
In many countries including United States of America, a receipt is a legal document i.e. required by law that the retailers and individuals have to keep the receipts for tax auditing and to prove that the sales are not hidden.
Why keep receipts?
There are many reasons to keep your receipts e.g., for getting a loan, for insurance purposes and for tax returns purposes. The receipts help you to keep track of your expenses that you may get deductions on your tax returns. Keeping your receipts organized will help you prepare your tax returns accurately and thoroughly.