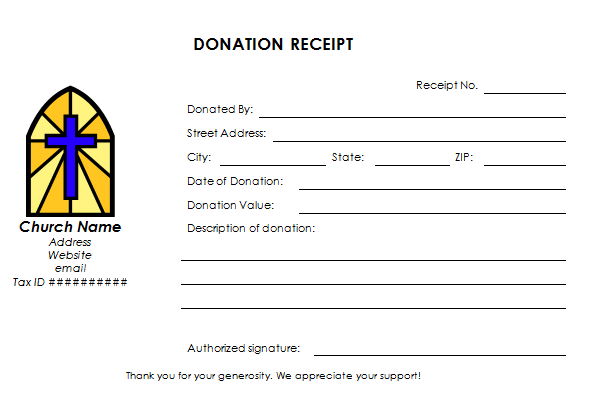 This church donation receipt template helps you create donation receipts for your church easily and quickly. The receipt template is a Microsoft Word document so that you can customize it to fit your needs. With this church donation receipt, you can:
Add your church logo and name.
Insert your church contact details including address, website, and email.
Put the tax ID of the church.
The church donation receipt template provides the basic framework so that you only have to fill out the necessary information about the donor and donation. It allows you to enter the following information:
Receipt number for your receipts management purpose.
Donor information including name and address.
Donation information including amount, date of donation and a brief description.
Authorized signature.
There is a thank you message at the end of the receipt to allow you to appreciate donor for his or her support.
You can print two copies of the receipt on an A4 paper or a letter paper, and send a copy to a donor along with a thank you letter. You should keep one copy for the accounting purpose.
Tips for saving time creating church donation receipts
You can follow the steps below to create church donation receipts quickly:
First, download the church donation receipt template below.
Second, add the church details including logo, name, address, website, email, and tax ID.
Third, save the template as your template and create the donation receipts from this new template for the next uses. This helps you avoid adding the same information every time you create the donation receipts.
Download church donation receipt template
Start downloading the church donation receipt template below and creating donation receipts for the donor.