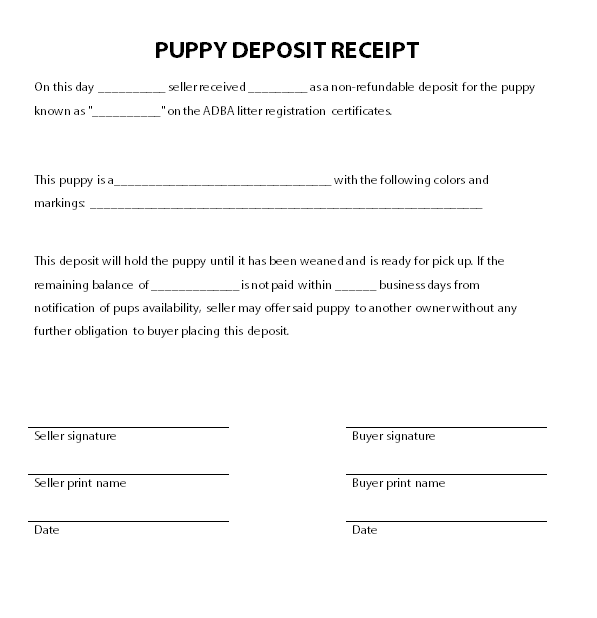 This is a puppy deposit receipt template that you can use for the puppy sales. When a buyer has paid you a deposit, you need to issue him/her a non-refundable deposit receipt.
The puppy deposit receipt states that a buyer has paid you a deposit for holding the puppy until the puppy has been weaned and ready for pickup. If the buyer does not pay a specific remaining balance within the number of business days from the notification of pups availability, you may offer the puppy to another owner. In addition, the deposit will be forfeited.
The puppy deposit receipt also describes the puppy details including breed, colors, markings and the name registered on the ADBA litter registration certificate. It also provides spaces for the signatures of buyer and seller.
When to use bill of sale for puppy or dog
Together with this receipt, you should also use a bill of sale for dog or puppy when you sell the puppy. The bill of sale ensures states that on a specific date, with a certain amount of money, you transfer the puppy to the buyer. You only use the bill of sale when the buyer pays you in full.
Download puppy deposit receipt
To create a puppy deposit receipt, you can download the puppy deposit template below. The receipt template provides all necessary information so that you only have to fill out the details, that will save you a lot of time drafting a receipt from the scratch.
To use this puppy deposit receipt template, you need to have a PDF reader installed on your system to fill out the information and print it out. Both you and the buyer should sign the receipt. You should also keep a copy of the receipt while giving another copy to the buyer.