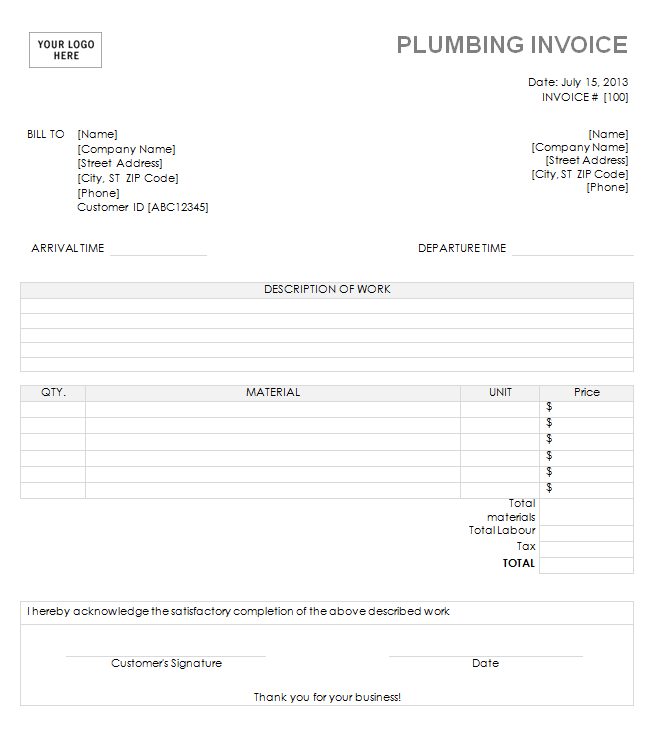 If you are looking for free plumbing invoice template to create your own invoices, you can download it on this page. We provide you with plumbing invoice template in Word document so that you can customize to make it work for your business.
Customizing the plumbing invoice template
With this plumbing invoice template, you can:
Add your own company name, logo and contact details including street address, city, zip code, phone, etc.
Put the invoice date and invoice number for tracking invoice.
Insert the arrival time and departure time regarding the plumbing services.
In addition, you can always change the color and font to make the invoice appearance match with your business' identity.
The invoice template also gives you a list of services that you are going to charge the customer including:
Description of work.
Material or spare parts used when you perform the plumbing service with the corresponding quantity and unit price.
Subtotals for materials and labor.
Tax if applicable.
Grand total.
You can also add customer signature and date at the bottom section of the invoice. The thank you message is available for showing your appreciation to the customer.
Tips for creating plumbing invoices quickly
To create plumbing invoice fast, you can follow the steps below:
Download the plumbing invoice template.
Add your company's information such as logo, name and contact details.
Save the template as a new template and create new plumbing invoices from this new template. This helps you save time filling out the same company's information every time you create a new plumbing invoice.
Download plumbing invoice template
Click the link below to download the plumbing invoice template. The downloaded file is in zip format so you need to unzip it first before using the template.
If you need any help regarding this invoice template, feel free to contact us.